Page 1 of 1
You cannot start a new topic

You cannot reply to this topic
Overlander CJ-8

Right Hand Drive Mail Jeep
Posted 18 October 2007 - 07:03 PM
*MY CJ IS YOUR yJ's DADDY*
*
Who Needs A Stinking Manual When You Have A Fat Wallet For Tech Support!*
*What man is a man who does not make the world better*
Support the Central Florida Bible Camp for kids
'65 CJ5 Navy; '74 CJ5; '80 CJ7; '84 CJ8; '86 CJ7

™ <----CLICK
---
Posted 18 October 2007 - 08:21 PM
That's cool! I like it.
CEO of Black Sheep 4x4s
http://www.blacksheep4x4s.org
https://www.facebook...acksheep4x4sorg
Member of CCJ
White Jeep Club Member #137
---
Posted 18 October 2007 - 08:47 PM
Wow, Did you just pick it up. That thing is amazingly clean.

Life is short, BOG it to the hub!!!!!!!
1977 CJ7, d30 frt/ARB locker/4:56, amc20widetrack rear w/Blue torch truss system/Detroit locker, molly one piece axles/4:56. MT classic lock rims w/15.5x15x35 TSL's, 4" skyjacker under spring lift +1" body lift + 11/4" shackel lift, anti wrap adjustable stabalizers, sway bar disconects, Warn front bumper w/9000#winch,Warn rear bumper w/matching spare. dry box. linex tub, 3R racing seats w/ 4way harnesess, tuffy security console, tuffy overhead console w/JVC cd and cobra C.B. Rear soundbar, Diamond plate rear corner guards and rocker guards. Aluminum dash w/ultralite guages and megellen GPS. windsheild mounted warn h/l beam off road lights. Under the hood??? AMC, not Ford, Not Cheverolet, not Dodge, but AMC 401 w/goodies tied to a built TH400 pushing through a D300 w/ Currie twin stick. IT STILL GET'S STUCK! The GPS is for locating gas stations!!!!!!!!!! A/C = holes in floor, no windows and bikini top!
---
Posted 19 October 2007 - 02:22 PM
Darn that is a beauty.
Is this rig out by you and is that gauge panel original
I notice from the pic that it might be an automatic tranny, did the CJ8 come with automatics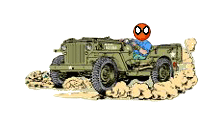 El Niño
Experience is defined as something you get, after you need it.
Give the world the best you have. The best will come back to you...
There are no rules for good photographs, there are only good photographs.
"Thou shalt not bear false witness against thy neighbour." 9th Commandment.
"Speak not Evil of the absent for it is unjust." George Washington, Rule 89 of Civility and Decent Behavior.
Wheeling Gallery
-----
E-Mail
Life Member: South Florida Jeep Club
---
Posted 19 October 2007 - 03:59 PM
1. No I didn't pick it up, I wish.

2. The gauge panel is original, it's a CJ panel but in mirror reverse.

3. Yes, CJ8's & CJ's came w/an auto TF-999.

4. If there was a conversion I would do it, I like it. Maybe some one could research it.

*MY CJ IS YOUR yJ's DADDY*
*
Who Needs A Stinking Manual When You Have A Fat Wallet For Tech Support!*
*What man is a man who does not make the world better*
Support the Central Florida Bible Camp for kids
'65 CJ5 Navy; '74 CJ5; '80 CJ7; '84 CJ8; '86 CJ7

™ <----CLICK
---
Share this topic:
Page 1 of 1
You cannot start a new topic

You cannot reply to this topic
---
| | |
| --- | --- |
| | |