Well im sick of all these performance parts costing so much darn money...If youve got the metal, why not do it yourself? Here it goes...This write up is on how to bore out your throttle body.
This throttle body was bored out from i believe 58mm to 62mm which is comparable to the rubicon express throttle body...
Link to RE Throttle body
....Sure its anodized red and nice and pretty, and squeezes out an est. 15 more bolt on horsepower...But look at the price tag...$370.00 not including S&H. If you'd like, read on, spend a couple dollars on a grinding stone and a few hours out of your day.
Tools needed:
Drill Press

Any kind of degreaser

Grinding stone for aluminum metal

WD40 or any other lubricant

Wirebrush

80-160 Grit Sand Paper

Wirebrush

Time and beer
Step 1:
Remove throttle body from intake manifold and save all hardware. If you can salvage your gasket, do it, otherwise you'll need to get another one from the autoparts store. Next, remove all TPS and IAC sensors. Clean the sensors and put them to the side. Degrease your throttle body with your favorite brand of degreaser so your working surface is clean and your grinding stone will not get gummed up with oil residues ect....
Step 2:
Measure out the inner diameter on the bottom of your throttle body...It should be somewhere around 58mm. From the remaining residue, there should be a little dark ring around the bottom of the throttle body which actually measure out to be about 62mm from outer ring to outer ring. With your measuring tape or whatever your using, make sure that your bore is going to be measured out to 62mm exactly and mark right around this ring. I used a razor blade and cut into the aluminum so i can make sure i do not go over the 62mm in the bore process.
Notice the dark ring around the hole. You can barely see where i made my ring on the aluminum. This is the boundry to how far i want to grind out of the throttle body.
Step 3:
Put your throttle body on your drill press and put on your grinding stone. Make sure your grinding stone is not touching the blade inside the throttle body. The last thing that you want to be doing is scarring this up. Next, put on a pair of gloves, spray the inner of the throttle body down with some lubricant like WD40 and kick on the drill press. Make sure that your RPMs are consistant while boring out the throttle body so some spots are not bored out deeper than others. Grab two opposite sides of the throttle body and move the throttle body around so the grinding stone is going around in a slow circle and making contact with the entire inner surface of the throttle bdoy. Each full circular movement should take you about 30 seconds or so. This is the part that will become exhausting and take you some time.
Periodically, you will have to spray down the throttle body with more lubricant to make sure your stone does not get too hot and the surface stay smooth and lubricated. You may also need to keep dumping out the metal shavings on the blade as they will tend to build up quickly. Make sure your throttle body stays clean throughout the entire process.
Step 4:
Once youv'e gotten your inner bore, out to 62 mm, you will need to adjust your working platform on your drill press to an angle of 20 degrees.
This is to create a smooth angled lip going into the intake manifold. This will help cure the "whistle" that is typically heard with 62mm throttle bodies that come from rubicon express, edge, and turbo city. This also helps increase airflow and gradually opens up into the intake manifold distribution chamber.
This process goes by very quickly so dont spend too much time grinding out the angle and in this process it is
VITAL
to make sure you spend and equal amount of time on the entire surface so this it is even.
Your final bore is going to look something like this: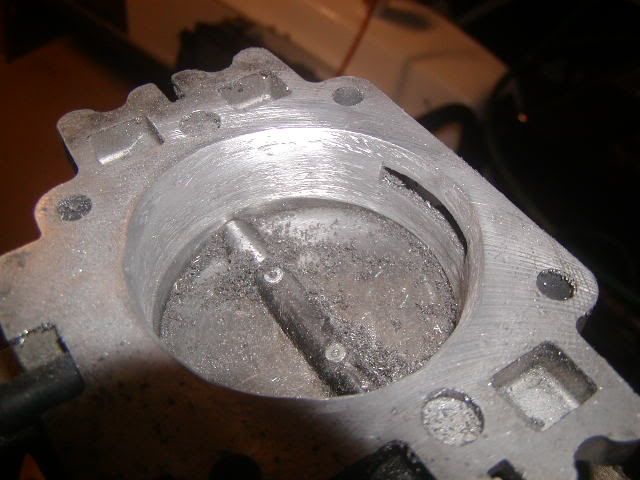 Step 5:
In this step, you are going to be perfecting your the cleanliness of your bore job and clean up the metal to make sure it is smooth, allowing the air to have the least amount of restriction. This is comparable to mandrel bent exhaust tubing versus discount auto's weekly special on 90 degree ripple bends. In order to achieve a smooth bore, you will start by using something ike brakecleener to get out remaining lubricant and metal shards, and allow for again, a clean working surface. Then use a small wirebrush in a drill and on an angle, use it to smooth out where you just ground out the metal. This will smooth it out to where you can run your finger over it.
Next, use a 100 grit sand paper and move up to about a 150 grit pad to finish up the process of making the guts smooth.
Step 6:
Degrease your throttle body and clean all remaining metal scraps and dust off of the throttle body. At this point, you can either go ahead to bolt back on your sensors and bolt it back down to the intake manifold...or you can go ahead and take it a bit further. I went ahead and prepped the surface to allow it to be painted.
Here's the finished product
And sort of a preview on my new 4.7L stroker motor: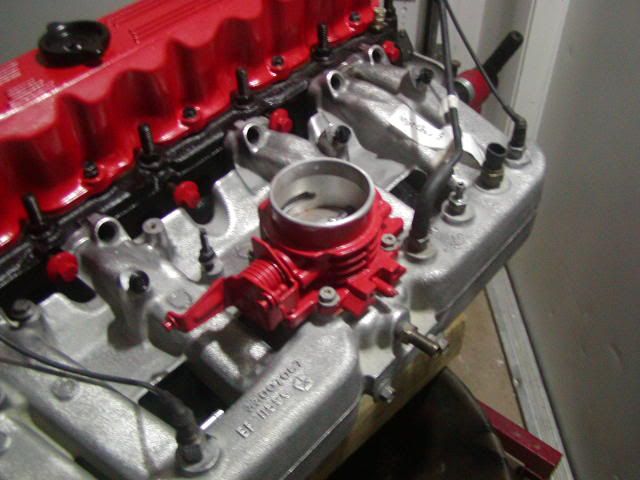 I will be doing a write up soon on the stroker motor. Get ready for the stroker motor swap because its loaded with just about every bolt on performance part you can get.
-Alex
PS, sorry for the long, over explanitory write up.
Any questions...please ask.