Page 1 of 1
You cannot start a new topic

You cannot reply to this topic
Willys Sale in San Fran
Posted 23 December 2005 - 11:42 PM
GUAPERIA OFF-ROAD READY PA TU MUNDO
visit 5050offroad.com
---
Posted 24 December 2005 - 08:20 AM
If this thing was closer it would be a nice restoration job.
Sometimes if they are too far gone it can really get expensive by the time you are done restoring with NOS parts.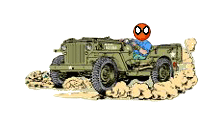 El Niņo
Experience is defined as something you get, after you need it.
Give the world the best you have. The best will come back to you...
There are no rules for good photographs, there are only good photographs.
"Thou shalt not bear false witness against thy neighbour." 9th Commandment.
"Speak not Evil of the absent for it is unjust." George Washington, Rule 89 of Civility and Decent Behavior.
Wheeling Gallery
-----
E-Mail
Life Member: South Florida Jeep Club
---
Share this topic:
Page 1 of 1
You cannot start a new topic

You cannot reply to this topic
---