Page 1 of 1
You cannot start a new topic

You cannot reply to this topic
15X10s, any used/new whatever

wanted
Posted 09 October 2003 - 07:09 PM
If anyone has decided to get rid of 15x10's(of any sort), i'll make an offer. thanks
-alex

-94 1 ton YJ - lifted/welded/300 ponies 4.7 Stroker/snorkel/winch/37 boggers 4sale
-04 superduty 6.0 diesel, hemlock performance transmission, ARP headstuds,EGR delete, SCT Livewire, 6" Procomp, exhaust,
-06 cummins 3500

www.southeasthay.com
---
Posted 09 October 2003 - 09:32 PM
Alex,

I have a black Rockcrawler steel wheel that I mounted as a spare but never used. I'ts a 15x10 with a 4" backspacing. All I have is one.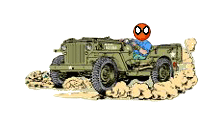 El Niņo
Experience is defined as something you get, after you need it.
Give the world the best you have. The best will come back to you...
There are no rules for good photographs, there are only good photographs.
"Thou shalt not bear false witness against thy neighbour." 9th Commandment.
"Speak not Evil of the absent for it is unjust." George Washington, Rule 89 of Civility and Decent Behavior.
Wheeling Gallery
-----
E-Mail
Life Member: South Florida Jeep Club
---
Posted 29 October 2003 - 11:18 AM
I have 4 painted white, 15 x 10 inch wheels that fit XJ's, TJ's, YJ's, and certain
Grand Cherokees (ZJ and WJ)......but they are NOT mine. They belong to a
friend who lent them to me in 1994......so, I will contact him and see if he
wants to sell them and how much he wants. There is still a set of directional
tires mounted on them....I'm sure the tires are dry-rottted and are HISTORY!
Anyway.......have some patience, and if the guy wants to sell them.....I'll
post the info!
Mountain Man
1982 CJ-7, 31" tires, 12,000 lb. Ramsey Winch.
2002 Jeep Liberty, lifted, 31" tires.

If GOD wanted us to own 2 wheel drive vehicles,
He would have paved the whole earth.

SFJC, Jeep Club Advisor
---
Posted 31 October 2003 - 09:34 AM
jim, thanks anyways, if you had all 4 or 5, id be happy to go ahead, but maybe i'll consider it and just buy the other three. Those are some good looking wheels...


Mountain man, that'd be great if you could ask your buddy if he wants to get rid of those wheels. Throw me a price and we'll see. If you could get a picture, that'd be great too.

-alex

-94 1 ton YJ - lifted/welded/300 ponies 4.7 Stroker/snorkel/winch/37 boggers 4sale
-04 superduty 6.0 diesel, hemlock performance transmission, ARP headstuds,EGR delete, SCT Livewire, 6" Procomp, exhaust,
-06 cummins 3500

www.southeasthay.com
---
Posted 31 October 2003 - 11:32 AM
Alex:

You've got first shot at them.......they are in good shape with
only a small amount of surface rust. They have 31 inch non-radial,
directional RVT
4WD tires mounted on them. Still holding air after about 5-6 years
in storage.

If Alex doesn't want them.....the price is $150.00 according to
the soon to be wed fellow, who owns the rims.

Mountain Man

1982 CJ-7, 31" tires, 12,000 lb. Ramsey Winch.
2002 Jeep Liberty, lifted, 31" tires.

If GOD wanted us to own 2 wheel drive vehicles,
He would have paved the whole earth.

SFJC, Jeep Club Advisor
---
Share this topic:
Page 1 of 1
You cannot start a new topic

You cannot reply to this topic
---
| | |
| --- | --- |
| | |