Page 1 of 1
You cannot start a new topic

You cannot reply to this topic
Local people

anyone near tally?
Posted 11 September 2003 - 12:50 PM
Anybody here from Tallahassee or anything close to Tallahassee??
97 GMB TJ
RE 2" BB, DT3000 shocks, homemade quick disco's, custom fab grilleguard, 31x10.50 BFG AT's, tow hooks, hurst t-handle, whip antenna, silverstar headlights, taillight guards, tow strap.
---
Posted 12 September 2003 - 07:26 AM
TrailPirate,
I guess you are going to have to get more people in here from your neck of the woods. It's ok, we have orphans in here from all over the States. Just look at some of the Locations on some of the posts.
If you can post some wheeling pics on the "let's go wheeling forum" from some of your trails up there (or near there) so we can all get to see would be great.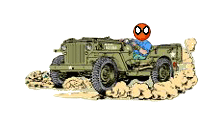 El Niņo
Experience is defined as something you get, after you need it.
Give the world the best you have. The best will come back to you...
There are no rules for good photographs, there are only good photographs.
"Thou shalt not bear false witness against thy neighbour." 9th Commandment.
"Speak not Evil of the absent for it is unjust." George Washington, Rule 89 of Civility and Decent Behavior.
Wheeling Gallery
-----
E-Mail
Life Member: South Florida Jeep Club
---
Share this topic:
Page 1 of 1
You cannot start a new topic

You cannot reply to this topic
---
| | |
| --- | --- |
| | |