As I was looking through all the write ups and different products that Tough Stuff makes, I was intrigued by the make up of these protectors. I will not be using these as a rocker protector as I am too lazy to un-install & re-install the ones that I have on there now. I wanted these to use as a non slip surface for my current rocker metal protectors to replaced the current gritty tape that I was using from Home Depot.
What I hated about the gritty stuff was that every time it touched clothing or skin it was very abrasive (strong sand paper). My wife used to complain to me constantly as she slid out of the Jeep. When I leaned against it to work on the inside of the Jeep, my smooth baby and young skin did not like the feel either.
If you notice that my rocker really does not have a step but an angle down and out to absorb impacts evenly across the panel.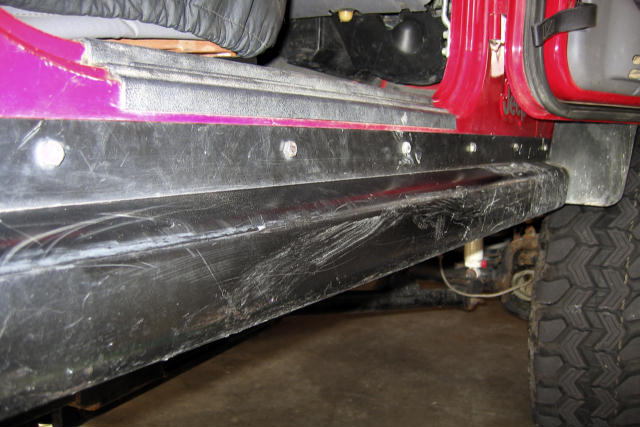 Everyone including myself uses it as a step even though it is not. Because of the smooth surface and angle, your foot constantly tends to slip off. Hence the attempt to find a non slip surface modification. I have to admit that I was a bit skeptic of the material. I always thought that the non slip surface on these strip tapes had to be gritty in order to prevent the non slip surface.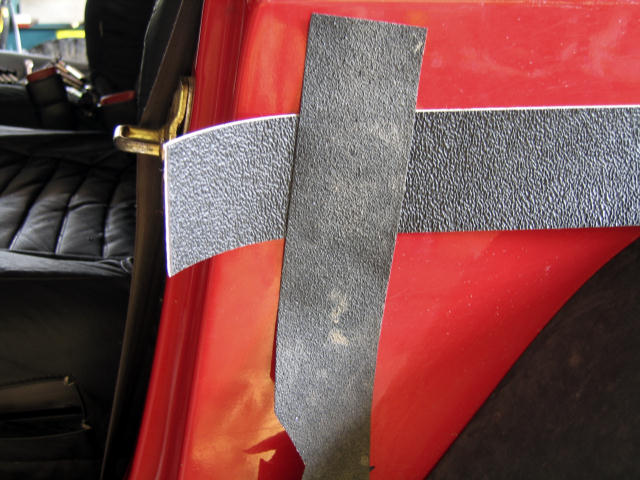 Take a look at these two strips. The one on the top or vertical is the gritty old stuff and the horizontal piece in the back is the one from Tough Stuff. It is thicker, rubbery, and non gritty. It felt like a non slip surface but I was still skeptic because as I felt the gritty stuff, it seemed like it was more of a non slip, maybe it seemed this way due to the sand paper feel.
Since Brad from Tough Stuff advised that this material is not very flexible (sticky side might not adhere well) when it came to bends and cornering, I decided to give it this issue a small try. My old gritty was 2" thick, I cut the TS 2 1/4". Just enough to have a small bend coming down. I believe that the extra 1/4" will give me a small angle advantage.
Took out the old gritty, cleaned it real good with a flat blade and a lot of alcohol to make sure that the surface was clean before the install.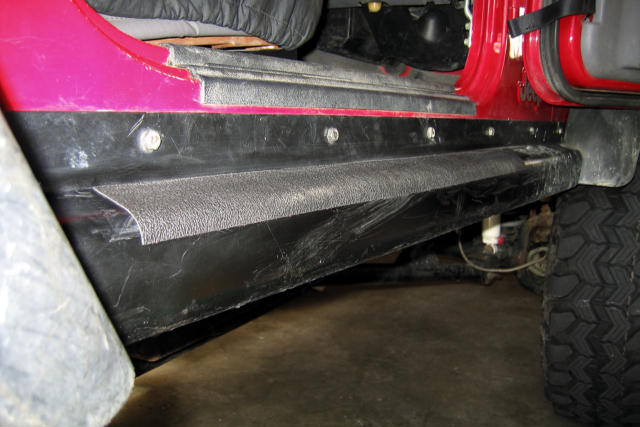 The directions that came in the box were pretty brief and simple. Even though these instructions were for the rocker, they lacked one comment. It did not mention to clean with alcohol which is very important to make the surface clean, especially for metal with use of a sticky surface.
Upon climbing on it I did notice one thing right away. It actually was better in traction than my old gritty stuff.
It did not feel this way when I was handling it with my hands. Also noticed that the corners on the bend might not be taking too well, I'm going to wait a day and then round off the corners with a small knife to see if I can make it grab better. This could be happening because of the bend. The rest seem to stick very well and I really like the traction that it gives me.
If I had to re-install my rocker or even my corner guards, I would use this material to go between the body and the metal. Not so much for protection of the paint, but for the grit that can get in between that might cause some rust over a period of time.
This product is not going to provide protection from heavy hits but I can tell you, if you are worried about scuffs, and scratches from climbing on your vehicle, laying tools on it, or heavy brush this material will do the job.
I'm sure that on less humid & hot weather climates this material will adhere even better. I will update at a later date if I have any problems with the material separating due to the small bend, or if it separates on the flat surfaces.