Page 1 of 1
You cannot start a new topic

You cannot reply to this topic
Looney Toons Smilies
Posted 04 May 2005 - 12:46 PM
Yes I know there are Looney Toons Avatars, I want Looney Toons Smilies! :ranting:
Who is with me! :bluto: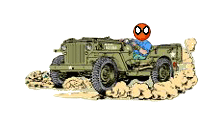 El Niño
Experience is defined as something you get, after you need it.
Give the world the best you have. The best will come back to you...
There are no rules for good photographs, there are only good photographs.
"Thou shalt not bear false witness against thy neighbour." 9th Commandment.
"Speak not Evil of the absent for it is unjust." George Washington, Rule 89 of Civility and Decent Behavior.
Wheeling Gallery
-----
E-Mail
Life Member: South Florida Jeep Club
---
Posted 04 May 2005 - 01:10 PM
1978 Jeep CJ7 4.0HO w/ Headmann Headers, MSD ignition, front dana 30 with Warn axle shafts, Warn premium locking hubs, custom drive shafts front and rear, NP 435 Transmission (6.69 to 1 first), dana 300 transfercase, model 20 rear differential with superior axles, Ox lockers front and rear, 4.10 gears, Currie twin stick, Warn premium front locking hubs, BDS 4" spring under suspension, Rancho RS 5000 shocks, revolver front shackles, warn XD9000I winch, 35" General Grabber M/T, Rubicon Express hand throttle and sway bar disconnects, dual optima batteries(red and yellow top) w/incab switch, and a on board hot water shower.
---
Posted 04 May 2005 - 02:26 PM
Ian Stewart

If you don't fight for the trails, there won't be any trails to fight for.

What you get by achieving your goals is not as important as what you become by achieving your goals.
Zig Ziglar

"War is an ugly thing, but not the ugliest of things. The decayed and degraded state of moral and patriotic feeling that thinks that nothing is worth war is much worse. The person who has nothing for which he is willing to fight, nothing which is more important than his own personal safety, is a miserable creature and has no chance of being free unless made and kept so by the exertions of better men than himself." ....

John Stuart Mill
---
Posted 04 May 2005 - 04:49 PM
Gentleman,

We will see what we can do. This Google link is an excellent one but I'm afraid these are Icons and not smilies (or emoticons) which need to be smaller to be placed in the smilie menu that you see now.

I will see what I can do as I might have a source. Was not aware of the popularity of Looneys on JeepTalk.

---
Posted 05 May 2005 - 01:04 PM
are we not all Looney ?
Red Beetle
---
Posted 14 May 2005 - 09:36 AM
In order to keep everyone happy we have added the ones below. Enjoy.

:bugs: :daffy: :coyote: :ysam: :widow: :crusher: :sylvester: :woody: :taz1:

:donald: :betty: :buddy: :speedy: :slow: :runner: :porky: :olive: :marvin: :tweety:

:marvin1: :lewpew: :huey: :goss: :goof: :general: :foghorn: :elmer: :droopy:

---
Posted 14 May 2005 - 09:49 PM
where?? I can't find them on my list....I want Tweety :jump:

Red Beetle
---
Posted 15 May 2005 - 07:56 AM
Tracy, on May 14 2005, 10:50 PM, said:
where??  I can't find them on my list....I want Tweety  :jump:
These are not Avatars so you will not find them in the Avatar list. They are smilies for when you write a post.
You can find these while writing a post and clicking on the link at the bottom of the smilie box "Show All".
I've added a Tweety Avatar to the Avatar list for you, check the list again.
---
Share this topic:
Page 1 of 1
You cannot start a new topic

You cannot reply to this topic
---
| | |
| --- | --- |
| | |