Page 1 of 1
You cannot start a new topic

You cannot reply to this topic
Keyless Entry Remote
Posted 11 August 2003 - 06:16 PM
Does anyone know how to progran a keyless entry remoe for a 1997 Grand Cherokee. Thanks[COLOR=blue]

---
Posted 12 August 2003 - 07:48 PM
Tom,

Can't help you here as I do not have one. Should be in your manual, if you don't have one call the dealer I'm sure they will help you out. See if you can email one of our members by the name of Mountain Man. He might be able to get you the info.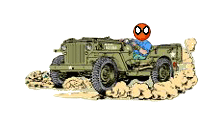 El Niņo
Experience is defined as something you get, after you need it.
Give the world the best you have. The best will come back to you...
There are no rules for good photographs, there are only good photographs.
"Thou shalt not bear false witness against thy neighbour." 9th Commandment.
"Speak not Evil of the absent for it is unjust." George Washington, Rule 89 of Civility and Decent Behavior.
Wheeling Gallery
-----
E-Mail
Life Member: South Florida Jeep Club
---
Posted 16 August 2003 - 10:59 AM
To program a "keyless entry remote" on a 1997 Jeep Grand Cherokee you need special
equipment....specifically a DRB (I just know you are going to ask what those
letters stand for) and you will need to know the secret CODE for the remote.
BOTTOM LINE: You need to take the vehicle to a Jeep Dealer and let
them do it.....and, if you have 2 units, take them both.....if you don't
have a spare, you can buy it
at the dealership....they are very expensive (around $85.00), but
you can buy them for less than $20 on ebay....just be sure it is the
proper year.....
Mountain Man
1982 CJ-7, 31" tires, 12,000 lb. Ramsey Winch.
2002 Jeep Liberty, lifted, 31" tires.

If GOD wanted us to own 2 wheel drive vehicles,
He would have paved the whole earth.

SFJC, Jeep Club Advisor
---
Share this topic:
Page 1 of 1
You cannot start a new topic

You cannot reply to this topic
---
| | |
| --- | --- |
| | |