A no brainer maintenance tip.
Zippers on Soft Top & Windows will get stiff. I've been spraying them with different lubricants but this is only a temporary fix as once it dries the zippers don't seem to work.
We wind up pulling on them and eventually tearing up the zipper only to have to buy new windows... they are not cheap either.
If you are trailing often you might want to pick up a raggedy set of windows for the trail even if it is hard to see out of the plastic. Problem comes in when you can't open or close them, the zippers eventually will go bad. Quite a few don't use tops & windows on the trail... I have a family with young children that I wish to protect from the elements.
I've always had in back of my head that zipper wax has always been the best thing to use. For some unknown reason I always kept forgetting to pick some up. The other day I remembered that any wax or candle could actually be used.
Finally I said what the heck as... I asked the War Department if she had an old candle lying around that I could use. I was ready to throw out a set of windows that the zippers were not locking no matter what I tried to do.
Guess what, after I applied the wax I was able to save them both as these were my trail windows. One side of the zipper still does not work but for some reason the other side locks & unlocks all the way and that is all I need.
Here is the tool:

I applied the larger side of the candle while the zipper was closed (at least in the areas that I was able to close), do not melt the candle, apply as is.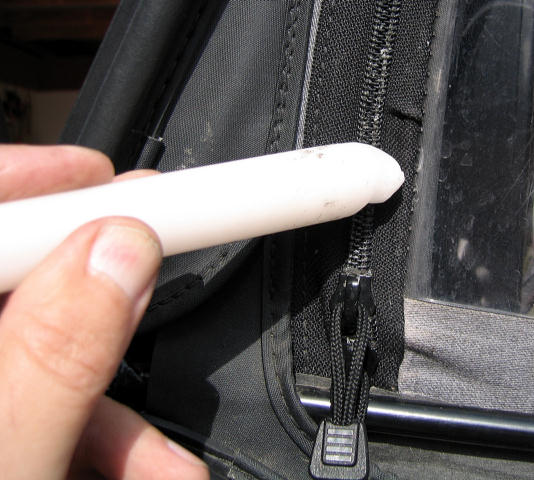 I then unzipped the window and applied the sides of the teeth along with the inner hard to reach sides.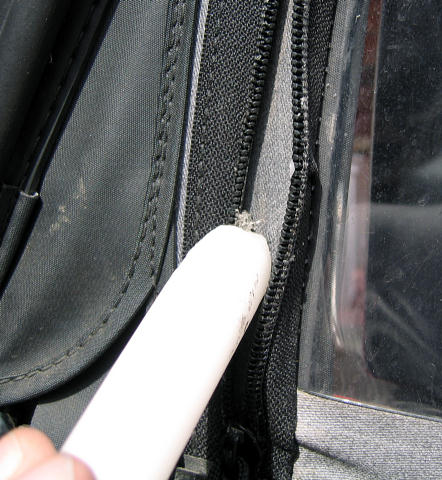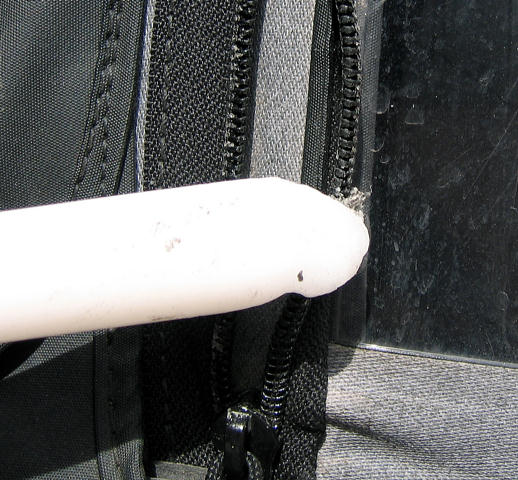 Notice the build up of wax on the zipper buckle... this is good.
This will actually outlast any liquid lubricant that you can possibly use.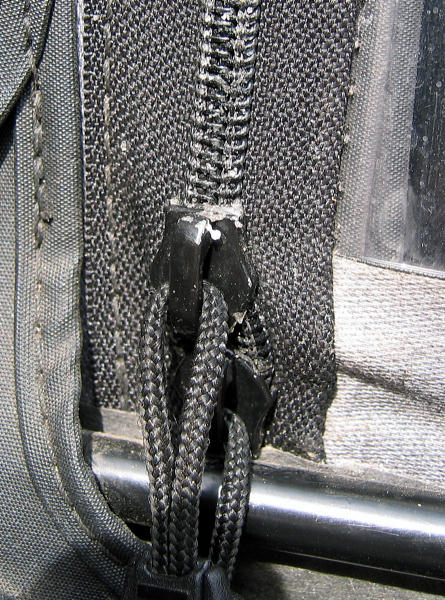 Don't wait
till your window zippers get stiff like I did, apply the wax as soon as you feel the zippers hang a bit and you'll have zippers for a long time to come.
Below is a pic of the entire window... zipper is saved.
You will notice that these are late model windows with extra duct tape added at the bottom for support.