Page 1 of 1
You cannot start a new topic

You cannot reply to this topic
UBAD: Cedar Mesa
Posted 18 April 2015 - 01:54 PM
The trailer:



MOAB Tested
2006 KJ Turbo Diesel
1997 4Runner w/stuff
---
Posted 20 April 2015 - 09:26 AM
Very nicely done!
Tip...
Pictures are a bit fuzzy, get a better camera or editor.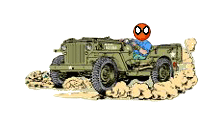 El Niņo
Experience is defined as something you get, after you need it.
Give the world the best you have. The best will come back to you...
There are no rules for good photographs, there are only good photographs.
"Thou shalt not bear false witness against thy neighbour." 9th Commandment.
"Speak not Evil of the absent for it is unjust." George Washington, Rule 89 of Civility and Decent Behavior.
Wheeling Gallery
-----
E-Mail
Life Member: South Florida Jeep Club
---
Share this topic:
Page 1 of 1
You cannot start a new topic

You cannot reply to this topic
---