Page 1 of 1
You cannot start a new topic

You cannot reply to this topic
LAZY SPRINGS Go Topless Event
Posted 10 May 2014 - 07:22 AM
Anybody going next weekend... 17 May 14.

89 YJ
,
A
M
C
360
,
102" OF NOISE AND BOOGER WELDS
MAKING GOOD DECISIONS COMES FROM EXPERIENCE

...


EXPERIENCE COMES FROM MAKING BAD DECISIONS

...
---
Posted 12 May 2014 - 06:55 AM
Details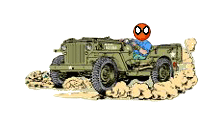 El Niņo
Experience is defined as something you get, after you need it.
Give the world the best you have. The best will come back to you...
There are no rules for good photographs, there are only good photographs.
"Thou shalt not bear false witness against thy neighbour." 9th Commandment.
"Speak not Evil of the absent for it is unjust." George Washington, Rule 89 of Civility and Decent Behavior.
Wheeling Gallery
-----
E-Mail
Life Member: South Florida Jeep Club
---
Share this topic:
Page 1 of 1
You cannot start a new topic

You cannot reply to this topic
---