Page 1 of 1
You cannot start a new topic

You cannot reply to this topic
Water Car or Water Jeep?
Posted 11 July 2013 - 06:12 PM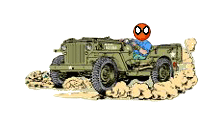 El Niņo
Experience is defined as something you get, after you need it.
Give the world the best you have. The best will come back to you...
There are no rules for good photographs, there are only good photographs.
"Thou shalt not bear false witness against thy neighbour." 9th Commandment.
"Speak not Evil of the absent for it is unjust." George Washington, Rule 89 of Civility and Decent Behavior.
Wheeling Gallery
-----
E-Mail
Life Member: South Florida Jeep Club
---
Posted 11 July 2013 - 08:43 PM
i want one

An Evil genius bent on destroying grammatical standards...
My Wife is a Reading teacher; if she can overlook my spelling, so can you.
2002 Jeep Liberty KJ 245/75R16 BFG Tread Write MTGs OME / rancho lift
1999 Dodge Durango SXT Magnum 4x4 Stock the work house
2012 Dodge Journey SXT 3.6 V6 Front Wheel Drive Stock AKA the Low Rider
SFJC Member
Member of L.O.S.T (Liberty Owners Special Team)
---
Share this topic:
Page 1 of 1
You cannot start a new topic

You cannot reply to this topic
---
| | |
| --- | --- |
| | |