15GiG Cloud Service - Free
Posted 22 May 2013 - 11:25 AM
https://www.copy.com/price
Not sure I like putting info in the hands of someone I don't know, but then again
*MY CJ IS YOUR yJ's DADDY*
*
Who Needs A Stinking Manual When You Have A Fat Wallet For Tech Support!*
*What man is a man who does not make the world better*
Support the Central Florida Bible Camp for kids
'65 CJ5 Navy; '74 CJ5; '80 CJ7; '84 CJ8; '86 CJ7

™ <----CLICK
---
Posted 22 May 2013 - 01:54 PM
then use your host account and install your very own personal cloud
http://owncloud.org/
Willy
2006 Wrangler X , 2014 JK Unlimited Sport
Keep Calm And Wave On
Pics:
---
Posted 23 May 2013 - 08:31 AM
Or get a Pogoplug, buy a 2 TB hard drive and have your own, they even have an iPhone app.
This is what I have, it also make a backup of folders (you set) of your desktop on the fly. They have other options as well.
PogoPlug Options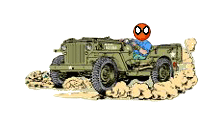 El Niño
Experience is defined as something you get, after you need it.
Give the world the best you have. The best will come back to you...
There are no rules for good photographs, there are only good photographs.
"Thou shalt not bear false witness against thy neighbour." 9th Commandment.
"Speak not Evil of the absent for it is unjust." George Washington, Rule 89 of Civility and Decent Behavior.
Wheeling Gallery
-----
E-Mail
Life Member: South Florida Jeep Club
---
Share this topic:
---
| | |
| --- | --- |
| | |