Is that JEEP wearing a bra ?
You bet it is, pal. But don t let it threaten your masculinity.
This JEEP is BADASS.
It's a 2008 Wrangler JK Unlimited 4 door with a soft top with ultra-rare half doors. Metallic Blue. Black top. Standard transmission. 76,000 miles. Cruise control. Aggressive stance. 2.5 inch lift. 35 inch tires. 17 inch rims and after-market suspension to climb over whatever you want. Cold-Air-Intake to make it rumble & purr. Powerful AC to fight back the Florida heat.
This JEEP has done Cypress National Reserve /Bear Island a few times and never got stuck. But mostly it's taken me back and forth to work as my daily driver and to the Keys, top down, doors off; getting thumbs up from oncoming traffic, the JEEP WAVE from other jeepers and a tan on top of my big, bald, smiling head. . . because you can't help but be happy in this JEEP.
Then why am I selling it? I'm getting married and reluctantly need to move into a more "Family Friendly" automobile. I've kept up on all the maintenance and fluids. It's in great shape & really runs well. And now you can buy it.
Extras include grill grate inserts, back seat cargo nets, a Yakima spare tire mount bike rack and an after-market computer to improve mileage, torque and power plus the previously mentioned hood cover.
buy_my_jeep@icloud.com
$25,000 OBO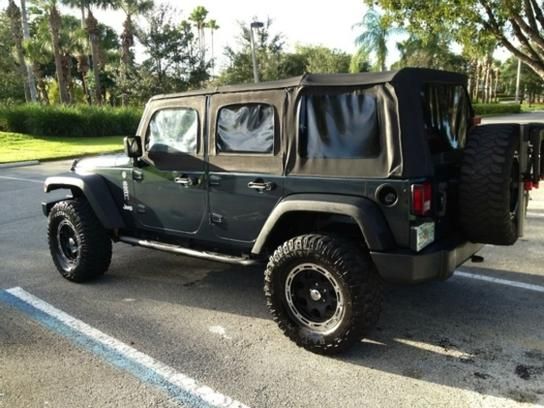 http://i161.photobuc...1_A373x421.jpeg