Page 1 of 1
You cannot start a new topic

You cannot reply to this topic
Wheeler Dealers - Willys Jeep
Posted 06 October 2012 - 02:59 PM
---
Posted 07 October 2012 - 08:15 PM
Pretty nice video.
Nice find.
I had the time to go through all the following frames and fast forward a few parts in where I knew most of it. The fellow bought for $13k US and sold it for 16k pounds which is around $26,000 US. Nice profit. I've been offer $25k for mine and it's in better condition with a mounted 30 cal and will not let it go.
I have too much fun with it and just looking at it when I walk into my garage my eyes light up. I supposed this could be a hand me down to my kids but if I don't see the love I'll probably sell it to someone in the future that can appreciate the love for what this represents.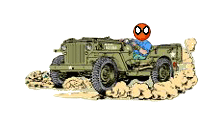 El Niņo
Experience is defined as something you get, after you need it.
Give the world the best you have. The best will come back to you...
There are no rules for good photographs, there are only good photographs.
"Thou shalt not bear false witness against thy neighbour." 9th Commandment.
"Speak not Evil of the absent for it is unjust." George Washington, Rule 89 of Civility and Decent Behavior.
Wheeling Gallery
-----
E-Mail
Life Member: South Florida Jeep Club
---
Posted 07 October 2012 - 10:00 PM
Great find!
With that I can get good profit!very nice profit!
---
Share this topic:
Page 1 of 1
You cannot start a new topic

You cannot reply to this topic
---
| | |
| --- | --- |
| | |