Page 1 of 1
You cannot start a new topic

You cannot reply to this topic
Rubicon
Posted 10 July 2012 - 12:30 PM
Anyone planning on a Rubicon trip this summer...... hit me up with some dates, I'm available almost anytime
---
Posted 11 July 2012 - 07:44 AM
Post up some pics and maybe you'll get some droolers.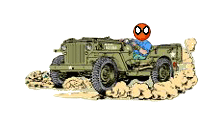 El Niño
Experience is defined as something you get, after you need it.
Give the world the best you have. The best will come back to you...
There are no rules for good photographs, there are only good photographs.
"Thou shalt not bear false witness against thy neighbour." 9th Commandment.
"Speak not Evil of the absent for it is unjust." George Washington, Rule 89 of Civility and Decent Behavior.
Wheeling Gallery
-----
E-Mail
Life Member: South Florida Jeep Club
---
Posted 15 July 2012 - 07:47 AM
Unfortunatly I don't have any of my own pictures for this run since I've never done it, but here's a good link to check out.
World Famous Rubicon Trail
---
Posted 23 July 2012 - 01:43 AM
yeah Post up some pics man
---
Posted 27 September 2012 - 07:32 PM
I have a few but they are on the iPHONE.
37" and min 4" w/a tummy tuck t-case.
You can go smaller but slower.
Leaf springs
I rode w/a guy that had coil springs this summer and wow, soft ride.
*MY CJ IS YOUR yJ's DADDY*
*
Who Needs A Stinking Manual When You Have A Fat Wallet For Tech Support!*
*What man is a man who does not make the world better*
Support the Central Florida Bible Camp for kids
'65 CJ5 Navy; '74 CJ5; '80 CJ7; '84 CJ8; '86 CJ7

™ <----CLICK
---
Posted 01 October 2012 - 07:53 PM
some pix may come up of a good decision...
post some pic
---
Posted 04 June 2013 - 06:02 PM
Jim B, on 11 July 2012 - 07:44 AM, said:
Post up some pics and maybe you'll get some droolers.
Im sure you can come up with a few of your own for the droolers!
1978 Jeep CJ7 4.0HO w/ Headmann Headers, MSD ignition, front dana 30 with Warn axle shafts, Warn premium locking hubs, custom drive shafts front and rear, NP 435 Transmission (6.69 to 1 first), dana 300 transfercase, model 20 rear differential with superior axles, Ox lockers front and rear, 4.10 gears, Currie twin stick, Warn premium front locking hubs, BDS 4" spring under suspension, Rancho RS 5000 shocks, revolver front shackles, warn XD9000I winch, 35" General Grabber M/T, Rubicon Express hand throttle and sway bar disconnects, dual optima batteries(red and yellow top) w/incab switch, and a on board hot water shower.
---
Share this topic:
Page 1 of 1
You cannot start a new topic

You cannot reply to this topic
---
| | |
| --- | --- |
| | |