Page 1 of 1
You cannot start a new topic

You cannot reply to this topic
wanted to post picture
Posted 29 January 2012 - 08:02 AM
Ok - someone want to tell me how to get a picture posted here?

---
Posted 29 January 2012 - 10:09 AM
Hello Sue,
Click on the help at the top right, there you will find all the explanation topics on most of the used features.
Here is the Link:
JeepTalk Help Topics
The first on that you will see there is how to post pictures. Go through it and if you still have any questions come back and post and I or other members will try to help.
Use the "test" forum to practice.
Btw, I moved your topic to the support section. Lets see them pics!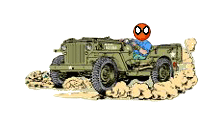 El Niño
Experience is defined as something you get, after you need it.
Give the world the best you have. The best will come back to you...
There are no rules for good photographs, there are only good photographs.
"Thou shalt not bear false witness against thy neighbour." 9th Commandment.
"Speak not Evil of the absent for it is unjust." George Washington, Rule 89 of Civility and Decent Behavior.
Wheeling Gallery
-----
E-Mail
Life Member: South Florida Jeep Club
---
Posted 29 January 2012 - 03:24 PM
OR U can do a short cut like I do.

Type in:
[img] [/img] put your HTTP in between.

*MY CJ IS YOUR yJ's DADDY*
*
Who Needs A Stinking Manual When You Have A Fat Wallet For Tech Support!*
*What man is a man who does not make the world better*
Support the Central Florida Bible Camp for kids
'65 CJ5 Navy; '74 CJ5; '80 CJ7; '84 CJ8; '86 CJ7

™ <----CLICK
---
Share this topic:
Page 1 of 1
You cannot start a new topic

You cannot reply to this topic
---
| | |
| --- | --- |
| | |