Page 1 of 1
You cannot start a new topic

You cannot reply to this topic
Brute Build
Posted 06 January 2012 - 11:24 PM
Been building a Brute over the last 3 months and I'd thought I'd post some pictures of the process
---
Posted 07 January 2012 - 09:45 AM
Nice.
Are the specs OEM, what made you decide to build one.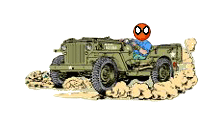 El Niņo
Experience is defined as something you get, after you need it.
Give the world the best you have. The best will come back to you...
There are no rules for good photographs, there are only good photographs.
"Thou shalt not bear false witness against thy neighbour." 9th Commandment.
"Speak not Evil of the absent for it is unjust." George Washington, Rule 89 of Civility and Decent Behavior.
Wheeling Gallery
-----
E-Mail
Life Member: South Florida Jeep Club
---
Posted 07 January 2012 - 02:40 PM
I saw my first Brute 5 years ago and wanted to build one ever since. I already own a 06 Rubi so I decided what the heck and start a build on a donor 2001 Wrangler Sport back in October. It has been a lot of fun. I've done 90% of the work myself.
Plan has always been to sell it when it is done. Only looking to cover my out of pocket expenses
4.0L engine
5 speed manual
3.73 gearing with rear limited slip
brand new pro comp 33x12.5
AC
Teraflex 3 in lift
9,000 rear wrench
spray in bedlinner front and rear
---
Posted 09 January 2012 - 02:05 PM
Very nice
Seems like a lot of work to sell it and not make a profit...
2010 JK Sport Unlimited
RuggedRidge XHD Bumper with stinger
Recon 10,500 lb Waterproof Winch
TeraFlex 2.5" Coil lift + Spacer Leveling Kit = More lift than I bargained for...
Smittybilt SRC Side Armor
KC SlimLite 130W on KC windshield brackets
35" Fierce Attitude M/T



Wish List


Snorkel
On Board Air
Windshield Lights
Front Fog Lights
Lockers
35" Mud Tires
---
Posted 11 January 2012 - 01:25 AM
Wow! What a nice job! Keep it at least for a while and do some cruisin'!
Black 2009 JKU Rubi
3.5" RC coils + 2.2 shocks
front adj. track bar + steering stabilizers
G-2 pumpkin covers
35" Nitto Trail Grapplers on 17x9 Am. Racing
Olympic side sliders
Olympic front bumper-12k remote winch-lights
Smitty rear bumper w. tire carrier+jack
Superchips Traildash + pod
Volant CAI + snorkel-Magnaflow
http://www.sor7.com/jeep.html
---
Posted 16 January 2012 - 03:17 AM
Very nice, great job on your jeep

---
Posted 20 January 2012 - 07:17 AM
WOW, verry nice looking
---
Posted 31 January 2012 - 07:59 PM
i want one but got no $$$$$$$$$

An Evil genius bent on destroying grammatical standards...
My Wife is a Reading teacher; if she can overlook my spelling, so can you.
2002 Jeep Liberty KJ 245/75R16 BFG Tread Write MTGs OME / rancho lift
1999 Dodge Durango SXT Magnum 4x4 Stock the work house
2012 Dodge Journey SXT 3.6 V6 Front Wheel Drive Stock AKA the Low Rider
SFJC Member
Member of L.O.S.T (Liberty Owners Special Team)
---
Posted 01 February 2012 - 11:57 AM
looks good.

---
Posted 07 February 2012 - 12:55 AM
great job on that man
---
Share this topic:
Page 1 of 1
You cannot start a new topic

You cannot reply to this topic
---
| | |
| --- | --- |
| | |