Page 1 of 1
You cannot start a new topic

You cannot reply to this topic
repqlacing door hinges 97 GC
Posted 22 December 2011 - 07:41 AM
What do I need to do to replace the door hinges on the Drivers door? 1997 GC.

Ian Stewart

If you don't fight for the trails, there won't be any trails to fight for.

What you get by achieving your goals is not as important as what you become by achieving your goals.
Zig Ziglar

"War is an ugly thing, but not the ugliest of things. The decayed and degraded state of moral and patriotic feeling that thinks that nothing is worth war is much worse. The person who has nothing for which he is willing to fight, nothing which is more important than his own personal safety, is a miserable creature and has no chance of being free unless made and kept so by the exertions of better men than himself." ....

John Stuart Mill
---
Posted 22 December 2011 - 08:08 AM
If I'm not mistaken they came out with a model change in 1999, here are some instructions from my old 2001 manual (same for 1999) which might be different from your 1997 but might help a bit.

HINGE
REMOVAL
(1) Open and support door.
(2) Using a wax pencil, or other suitable device,
reference mark the hinge placement
(3) Disconnect the door wire harness.
(4) Remove the door check from the "A" pillar (Fig. 7).
(5) Remove the fasteners retaining the door hinge to the door (Fig. 8).
(6) Remove the door.
(7) Remove the hinge from the "A" pillar.
INSTALLATION
(1) Position hinge on "A" pillar. (Use 3Mt Fast and
Firm or equivalent on the hinge to body mating surface as a sealant.)
(2) Install hinge to body bolts, but do not tighten.
(3) Align the hinge to the reference marks and torque the bolts to 35N·m (26 ft. lbs.).
(4) Install the door on the hinge and align with the reference marks.
(5) Tighten the door to hinge fasteners.
(6) For adjustment see door adjustment procedure.

I can pdf any pages you need.

There might be a free online manual, do a google. Let us know.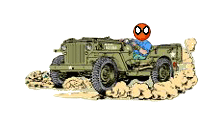 El Niņo
Experience is defined as something you get, after you need it.
Give the world the best you have. The best will come back to you...
There are no rules for good photographs, there are only good photographs.
"Thou shalt not bear false witness against thy neighbour." 9th Commandment.
"Speak not Evil of the absent for it is unjust." George Washington, Rule 89 of Civility and Decent Behavior.
Wheeling Gallery
-----
E-Mail
Life Member: South Florida Jeep Club
---
Posted 22 December 2011 - 01:42 PM
According to
Body Zone
, the pin & bushing can be replaced, up to the 98 model. Since that seems to be the case, all I need is to ge tthe pins & bushings along w/ a helper. I just want to make sure I ain't missing anything.
Ian Stewart

If you don't fight for the trails, there won't be any trails to fight for.

What you get by achieving your goals is not as important as what you become by achieving your goals.
Zig Ziglar

"War is an ugly thing, but not the ugliest of things. The decayed and degraded state of moral and patriotic feeling that thinks that nothing is worth war is much worse. The person who has nothing for which he is willing to fight, nothing which is more important than his own personal safety, is a miserable creature and has no chance of being free unless made and kept so by the exertions of better men than himself." ....

John Stuart Mill
---
Share this topic:
Page 1 of 1
You cannot start a new topic

You cannot reply to this topic
---
| | |
| --- | --- |
| | |