Page 1 of 1
You cannot start a new topic

You cannot reply to this topic
RollOvers
Posted 12 December 2011 - 08:50 AM
I specially like the last one on the video...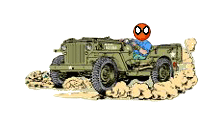 El Niņo
Experience is defined as something you get, after you need it.
Give the world the best you have. The best will come back to you...
There are no rules for good photographs, there are only good photographs.
"Thou shalt not bear false witness against thy neighbour." 9th Commandment.
"Speak not Evil of the absent for it is unjust." George Washington, Rule 89 of Civility and Decent Behavior.
Wheeling Gallery
-----
E-Mail
Life Member: South Florida Jeep Club
---
Posted 12 December 2011 - 09:51 AM
I have a new found appreciation for mud now, thank you very much.

RockOn
1993 Jeep Wrangler
Work in Progress... has some stuff, needs some stuff, have a bunch of stuff to put in/on
---
Posted 12 December 2011 - 12:52 PM
i think that last one was a little fake. if not for that the rest look believable

An Evil genius bent on destroying grammatical standards...
My Wife is a Reading teacher; if she can overlook my spelling, so can you.
2002 Jeep Liberty KJ 245/75R16 BFG Tread Write MTGs OME / rancho lift
1999 Dodge Durango SXT Magnum 4x4 Stock the work house
2012 Dodge Journey SXT 3.6 V6 Front Wheel Drive Stock AKA the Low Rider
SFJC Member
Member of L.O.S.T (Liberty Owners Special Team)
---
Posted 12 December 2011 - 05:36 PM
At 1:16 there is a well know wheeler that you can recognize by the bald spot on the head
Willy
2006 Wrangler X , 2014 JK Unlimited Sport
Keep Calm And Wave On
Pics:
---
Posted 12 December 2011 - 06:18 PM
-dave
---
Posted 13 December 2011 - 10:47 AM
The dog on the first one was great, I'd like to think the last one was a fake but it's probably more likely that he forgot to buckle up...
2010 JK Sport Unlimited
RuggedRidge XHD Bumper with stinger
Recon 10,500 lb Waterproof Winch
TeraFlex 2.5" Coil lift + Spacer Leveling Kit = More lift than I bargained for...
Smittybilt SRC Side Armor
KC SlimLite 130W on KC windshield brackets
35" Fierce Attitude M/T



Wish List


Snorkel
On Board Air
Windshield Lights
Front Fog Lights
Lockers
35" Mud Tires
---
Posted 14 December 2011 - 09:19 PM
Just weird.
2011 JK with a 3.5 RE and 35s plus a few more mods.
---
Posted 15 December 2011 - 11:20 AM
crazy and funny.
02 Red TJ angler sport
MTR's 35x12.50, OX, front & rear Dana 44,30, 456 gears, WARN bumpers front & rear tire carrier, 6"longarm skyjacker lift ,Johnny joints, BDS 9500 shocks, Tom wood's drive shaft, Cobra 75 cb, Garmin GPS, 4' firestick, 6" kc slimlights, flowmaster 40 exhaust, WARN 9.5 ti, Poison spyder rockers, WARN steering box skidplate, Delta xenon headlights, K&N Air intake, 1 1/4 JKS bodylift, TP paper
2008 SouthEast JeepFest Champ of the ramp & 50/50 offroad team
ANGLER'S YOU TUBE
---
Share this topic:
Page 1 of 1
You cannot start a new topic

You cannot reply to this topic
---
| | |
| --- | --- |
| | |