Page 1 of 1
You cannot start a new topic

You cannot reply to this topic
Halloween Jeep Decoration
Posted 30 October 2011 - 04:58 PM
Just got an idea for next year
Most people aren't brave, they are just too stupid to realize what they are doing.

2006 Jeep Wrangler Unlimited Rubicon 4.0 with a 6 speed hand shaker: 4" Skyjacker lift, Super Lift bent Control Arms, High Rock front and rear bumpers, Rubicon Express Hand throttle ,Cragar 15" Soft 8's wrapped with 35" Dunlop Mud Rovers.

VP High Rollers Jeep Club
---
Posted 31 October 2011 - 07:05 AM
Like that.
Did you actually see this?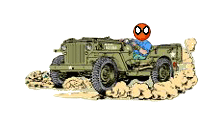 El Niņo
Experience is defined as something you get, after you need it.
Give the world the best you have. The best will come back to you...
There are no rules for good photographs, there are only good photographs.
"Thou shalt not bear false witness against thy neighbour." 9th Commandment.
"Speak not Evil of the absent for it is unjust." George Washington, Rule 89 of Civility and Decent Behavior.
Wheeling Gallery
-----
E-Mail
Life Member: South Florida Jeep Club
---
Posted 31 October 2011 - 11:04 AM
Unfortunately no came accross it on the net

Most people aren't brave, they are just too stupid to realize what they are doing.

2006 Jeep Wrangler Unlimited Rubicon 4.0 with a 6 speed hand shaker: 4" Skyjacker lift, Super Lift bent Control Arms, High Rock front and rear bumpers, Rubicon Express Hand throttle ,Cragar 15" Soft 8's wrapped with 35" Dunlop Mud Rovers.

VP High Rollers Jeep Club
---
Posted 31 October 2011 - 02:56 PM
And for the Candy Cane parade you could do the same thing... only use a Santa head and a deer hoof

RockOn
1993 Jeep Wrangler
Work in Progress... has some stuff, needs some stuff, have a bunch of stuff to put in/on
---
Posted 31 October 2011 - 03:40 PM
That would be awesome.... But would probably scare the kids. So I say go for it.
---
Share this topic:
Page 1 of 1
You cannot start a new topic

You cannot reply to this topic
---
| | |
| --- | --- |
| | |