Page 1 of 1
You cannot start a new topic

You cannot reply to this topic
Taking it to the Rocks
Posted 12 October 2011 - 08:45 AM
He saves going over a few times.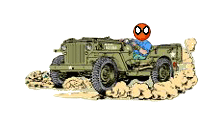 El Niņo
Experience is defined as something you get, after you need it.
Give the world the best you have. The best will come back to you...
There are no rules for good photographs, there are only good photographs.
"Thou shalt not bear false witness against thy neighbour." 9th Commandment.
"Speak not Evil of the absent for it is unjust." George Washington, Rule 89 of Civility and Decent Behavior.
Wheeling Gallery
-----
E-Mail
Life Member: South Florida Jeep Club
---
Posted 15 October 2011 - 03:01 PM
that right there is experience to know exactly the timing to save it.

1997 wrangler
38.5/14.5 tsl sx
Ballistic fab beadlocks
cobra 19 cb
superwinch 9500lb winch
8 inch fabtech rock crawler kit
3 inch body lift
and more...
---
Posted 16 October 2011 - 08:19 PM
wow i can't believe that girl isn't freakn out
02 Red TJ angler sport
MTR's 35x12.50, OX, front & rear Dana 44,30, 456 gears, WARN bumpers front & rear tire carrier, 6"longarm skyjacker lift ,Johnny joints, BDS 9500 shocks, Tom wood's drive shaft, Cobra 75 cb, Garmin GPS, 4' firestick, 6" kc slimlights, flowmaster 40 exhaust, WARN 9.5 ti, Poison spyder rockers, WARN steering box skidplate, Delta xenon headlights, K&N Air intake, 1 1/4 JKS bodylift, TP paper
2008 SouthEast JeepFest Champ of the ramp & 50/50 offroad team
ANGLER'S YOU TUBE
---
Posted 18 October 2011 - 01:41 PM
That was insane
---
Share this topic:
Page 1 of 1
You cannot start a new topic

You cannot reply to this topic
---
| | |
| --- | --- |
| | |