Page 1 of 1
You cannot start a new topic

You cannot reply to this topic
Georgia Trail Riders
Posted 16 March 2011 - 12:25 AM
---
Posted 16 March 2011 - 08:13 AM
Please do post your trail rides under Let's go Wheeling and the pics on the Aftermath forum.
I like this picture on your site.
Some us travel to other areas and we are sad to see River Rock closed. Where was this picture taken and do you have other areas you can recommend in GA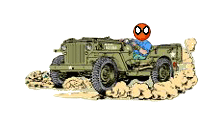 El Niņo
Experience is defined as something you get, after you need it.
Give the world the best you have. The best will come back to you...
There are no rules for good photographs, there are only good photographs.
"Thou shalt not bear false witness against thy neighbour." 9th Commandment.
"Speak not Evil of the absent for it is unjust." George Washington, Rule 89 of Civility and Decent Behavior.
Wheeling Gallery
-----
E-Mail
Life Member: South Florida Jeep Club
---
Posted 16 March 2011 - 10:13 AM
This picture was taken in the big dirt hole next to the camp grounds at River Rock.

---
Share this topic:
Page 1 of 1
You cannot start a new topic

You cannot reply to this topic
---
| | |
| --- | --- |
| | |