Page 1 of 1
You cannot start a new topic

You cannot reply to this topic
Oil leak stopped?!

I guess even morons get lucky sometimes...
Posted 15 July 2010 - 03:46 PM
- 2000 TJ with big rubbery tires for going on trails and stuff.
---
Posted 15 July 2010 - 06:44 PM
"Disturbing evidence is mounting that something frightening is happening deep under the waters of the Gulf of Mexico—something far worse than the BP oil gusher.

Warnings were raised as long as a year before the Deepwater Horizon disaster that the area of seabed chosen by the BP geologists might be unstable, or worse, inherently dangerous.

What makes the location that Transocean chose potentially far riskier than other potential oil deposits located at other regions of the Gulf? It can be summed up with two words: methane gas.

More than 12 months ago some geologists rang the warning bell that the Deepwater Horizon exploratory rig might have been erected directly over a huge underground reservoir of methane.

Documents from several years ago indicate that the subterranean geologic formation may contain the presence of a huge methane deposit.

So, in this article you posted...

"We're encouraged by this development, but this isn't over," "It remains likely that we will return to the containment process using this new stacking cap connected to the risers to attempt to collect up to 80,000 barrels of oil per day until the relief well is completed." Earlier on Thursday, the national incident commander, Thad W. Allen, said that closing the well off using the containment cap would only be an interim measure, and that the company must still complete the relief wells it is working on in order to seal the well for good. If all goes well, it may also be used to seal the well completely for brief periods. "I don't want to reverse the priorities here, because the priority was to contain and stop the flow of oil," he said, "but the design of the cap itself, if we can withstand the pressures and the well bore stays intact, presents the opportunity to shut the well in, which will give us the ability to abandon the site in a hurricane, so it's a two-for if we can do it."

So, I'm a little confused. Are they capping the main one and going to continue with the new drilled relief wells? And also continue to use occasionally the big one? I think this may have been the last warning from high above?... I say after all is fixed (if it can be fixed for good), they need to leave nature alone and go far away!!!! I don't care what business it is, when the owner(s) get greedy it will come back to them in some way - full circle.

O
[][][][]
O
1987 YJ7TJ
Member: The WINCH TEAM = Women In Need of Constant Horsepower TEAM
"If you run away, you will fall. If you face it like a bull, you will rise."
"HONESTY you can work with - NOT LIES"
"Life is short, hard and trying...grab it by the %!((@, live it up and BE HAPPY!!!"
"Seems like the younger ones are into themselves, and the older ones are into you."
"You don't stop laughing because you grow old...you grow old because you stop laughing."
"Growing old is mandatory...growing up is optional."
That's all folks!
---
Posted 16 July 2010 - 07:13 AM
Watch, after the cap works (if), they are going to want to go back and and make it active again. There are also other wells in the Gulf that need to be looked into before all this happens again which have been ignored.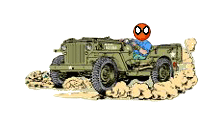 El Niño
Experience is defined as something you get, after you need it.
Give the world the best you have. The best will come back to you...
There are no rules for good photographs, there are only good photographs.
"Thou shalt not bear false witness against thy neighbour." 9th Commandment.
"Speak not Evil of the absent for it is unjust." George Washington, Rule 89 of Civility and Decent Behavior.
Wheeling Gallery
-----
E-Mail
Life Member: South Florida Jeep Club
---
Posted 16 July 2010 - 07:43 AM
I agree Gutsy. This is not the time to think about future uses of this well. They're talking about that even though every other sentence begins with "if" or "maybe"--eff that!

Just shut it down, and go look at all the other wells/pipes that line the ocean floor before it's too late. Did they not think this might happen?

If I were them, I'd consider myself somewhat lucky right now and try to make sure it never happens again.

Apparently GREED does not know when to cut its losses.

- 2000 TJ with big rubbery tires for going on trails and stuff.
---
Posted 16 July 2010 - 01:44 PM
Apparently GREED does not know when to cut its losses.
[/quote]

I agree with this statement, they just dont know when to stop

THE CJ7
---
Posted 16 July 2010 - 04:28 PM
Pressure readings have been less than ideal from the new cap shutting oil into BP's busted well
Not out of the woods yet
---
Share this topic:
Page 1 of 1
You cannot start a new topic

You cannot reply to this topic
---
| | |
| --- | --- |
| | |