Page 1 of 1
You cannot start a new topic

You cannot reply to this topic
SFJC Monthly Meeting 5/12/2010 Wed

Meeting Held at Arrigo Jeep
Posted 06 May 2010 - 10:01 AM
Monthly meeting Wed at Arrigo.

We have a few new things, please try and attend.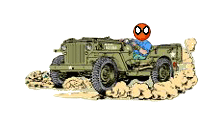 El Niņo
Experience is defined as something you get, after you need it.
Give the world the best you have. The best will come back to you...
There are no rules for good photographs, there are only good photographs.
"Thou shalt not bear false witness against thy neighbour." 9th Commandment.
"Speak not Evil of the absent for it is unjust." George Washington, Rule 89 of Civility and Decent Behavior.
Wheeling Gallery
-----
E-Mail
Life Member: South Florida Jeep Club
---
Posted 06 May 2010 - 10:56 AM
I am on vacation next week so I shouldn't have a problem making it.
1991 YJ 3" SOA, 3" BL, 38.5 boggers, SYE, EB D44/8.8, 4.10s, 1999 4.0 High Output motor, BIG rear bumper, 10K vortex winch w/ wireless remote, Square Headlights plus a few extra
1989 YJ. 2"BL, semi-functional snorkel, little "girlie" tires
2001 F350 7.3L turbo diesel, Square Headlights
2007 Honda Rancher 4x4 27" Vampire tires, Square Headlights
Member: South Florida Jeep Club
FOUNDER:
S
quare
H
eadlight
I
ntense
T
eam
"Right is Right even if no one does it & Wrong is Wrong even if everyone does it."
"NEVER look down on someone unless you are helping them up"
"I'm not smart but I can lift heavy things"
---
Posted 06 May 2010 - 11:02 AM
It's at Arrigo
so it is a bit closer to me than Hollywood so I will be there.
Willy
2006 Wrangler X , 2014 JK Unlimited Sport
Keep Calm And Wave On
Pics:
---
Posted 11 May 2010 - 09:54 AM
Arrigo is much further than Hollywood for us, but we'll be there.
-dave
---
Share this topic:
Page 1 of 1
You cannot start a new topic

You cannot reply to this topic
---
| | |
| --- | --- |
| | |