Page 1 of 1
You cannot start a new topic

You cannot reply to this topic
2.5 to 4.0 YJ upgrade

2.5 to 4.0 YJ upgrade
Posted 02 July 2003 - 07:26 PM
Is there anything I should be concerned about before I upgrade from a 2.5 to a 4.0? Thank you
---
Posted 05 July 2003 - 07:51 AM
Abreckan,

I personally do not have any experience with this and frankly you are the first person I know that will be doing it.

Would appreciate if you take some pictures and do a small write up on this thread with regards to your on going experience with this project. Thanks.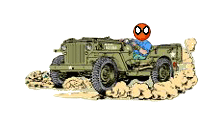 El Niņo
Experience is defined as something you get, after you need it.
Give the world the best you have. The best will come back to you...
There are no rules for good photographs, there are only good photographs.
"Thou shalt not bear false witness against thy neighbour." 9th Commandment.
"Speak not Evil of the absent for it is unjust." George Washington, Rule 89 of Civility and Decent Behavior.
Wheeling Gallery
-----
E-Mail
Life Member: South Florida Jeep Club
---
Posted 10 July 2003 - 07:00 AM
I might be stating the obvious here but this is a list of 'stuff' needed....if anyone else has something not on the list please add to it.

4.0L engine.
proper tranny
proper t-case
motor mounts.....most likely will need to remove the 2.5L MM's and then find someone with a 4.0L YJ to see where to weld in the new mounts.
drive shafts......chances both front and rear drive shafts will be different between the drivelines.
And also the correct wiring. I can;t say for sure but I am sure someone here knows if the wiring is compatible between the 2 drivelines......so finding out which wiring componants (if any) will be needed.
you may need a new radiator.....again I am not 100% sure if the rad's are the same between motors
exhaust.....the exhaust will be different...probably not much but enough where it will have to be tweaked.

And probably most importantly the correct tools......and an extra vehicle to get to and from the parts/tool stores when you discover you don;t have the little 50 cent tool that will complete the whole project....been there done that way to many times.

Again I am stating things you most likely have already th ought of but hopefully this gives you at least some help.

Good luck:)

---
Share this topic:
Page 1 of 1
You cannot start a new topic

You cannot reply to this topic
---
| | |
| --- | --- |
| | |