Page 1 of 1
You cannot start a new topic

You cannot reply to this topic
WWII Jeeps
Posted 27 October 2008 - 09:51 PM
*MY CJ IS YOUR yJ's DADDY*
*
Who Needs A Stinking Manual When You Have A Fat Wallet For Tech Support!*
*What man is a man who does not make the world better*
Support the Central Florida Bible Camp for kids
'65 CJ5 Navy; '74 CJ5; '80 CJ7; '84 CJ8; '86 CJ7

™ <----CLICK
---
Posted 28 October 2008 - 09:33 AM
WOW!!! great video
Willy
2006 Wrangler X , 2014 JK Unlimited Sport
Keep Calm And Wave On
Pics:
---
Posted 28 October 2008 - 10:53 AM
Rollbar,
This is by far one of the best video clips I've seen on WWII Jeeps. Excellent find!
Amazing how many soldiers they were getting inside the plane. The MB/GPW shots were excellent all through the end.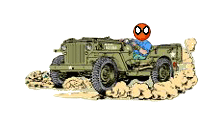 El Niño
Experience is defined as something you get, after you need it.
Give the world the best you have. The best will come back to you...
There are no rules for good photographs, there are only good photographs.
"Thou shalt not bear false witness against thy neighbour." 9th Commandment.
"Speak not Evil of the absent for it is unjust." George Washington, Rule 89 of Civility and Decent Behavior.
Wheeling Gallery
-----
E-Mail
Life Member: South Florida Jeep Club
---
Posted 28 October 2008 - 11:13 AM
Great video Rollbar!
WICKEDTRAILS4X4.COM
'04 LJ-Wicked Built
---
Posted 28 October 2008 - 11:18 AM
That was one great video!!!!!! How did you get Daisy in the middle of it?

CEO of Black Sheep 4x4s
http://www.blacksheep4x4s.org
https://www.facebook...acksheep4x4sorg
Member of CCJ
White Jeep Club Member #137
---
Posted 28 October 2008 - 06:29 PM
Great video Jim.

p.s. I can't believe how well Daisy hides her age for being a WWII vet.

Alex P
I wish I could think of somehting funny to put here...
98' Red TJ, 4.0 I6, 4.5" Lift, Stock Running Gear, 35" Super Swamper Radials, 9500lb MM Winch mounted on Hansen Bumper.
Wish list: Too long to mention...
Member of Caloosa Jeepers of SW FL
http://www.caloosajeepers.com/
---
Posted 28 October 2008 - 06:35 PM
excellent video, old school FTW

Im Sure When I Find A Jeep My Sig Will Have Some Sort Of Something To Do With The Jeep.LOL
---
Share this topic:
Page 1 of 1
You cannot start a new topic

You cannot reply to this topic
---
| | |
| --- | --- |
| | |