Ive been looking at these for a while, but havent had the need for them as of yet. Well after my caliper froze up on me a few weeks ago I decided it was time to order them.
What they are are the bleeder valves in the calipers that allow you to bleed the brake system. They have a check valve built in so you dont need the second person to sit there and either hold the brake or close the valve.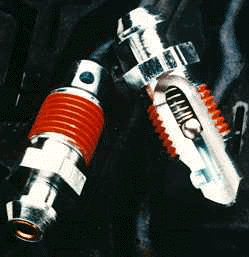 The model number that works for my jeeps is SB3824. But what ive read is that the SB3824HD actually fits better which is made for the harley davidson. And I ordered the SB3824HD-SS which are the stainless steel ones. The standard bleeders are $7 a peice or the stainless steel are $15 a peice.
I think it was a great buy and sure made bleeding my brakes easy, especially after I put all new brake lines in and tightened everything up.
You can purchase them on their website
http://www.speedbleeder.com/
or Ive also read somewhere that you can find them in Auto Zone where their HELP section is at, but ive never looked.